Pakistan missed a great opportunity to go ahead of Sri Lanka in the one-day series on Saturday. As a result, they now go into the fifth and final ODI with a chance of only squaring the series. They wouldn't be high on confidence following the miraculous collapse the other day. However, Pakistan can never be written off, which is why Sri Lanka should guard against complacency. The hosts would definitely fancy their chances. Also, knowing that they cannot lose the series from here, there wouldn't be a lot of pressure on them. Pakistan, it is then, who will have to do all the running.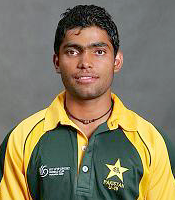 For Pakistan to come out on top on Monday, they will have to improve significantly in a number of aspects. First and foremost, they have to get their batting in shape. A reshuffle in the batting order is necessitated considering they have failed for a number of games in succession now. Umar Akmal should be sent higher up the order to see if he can make a difference. Even if fails, it wouldn't impact Pakistan majorly for Younis is anyways struggling at number four position. Who knows a swap in batting order could benefit both. Remember, Rahul Dravid and VVS Laxman exchanged positions during the 2001 Kolkata Test, and the rest is history. The Pakistan management must at least take some initiative; winning or losing is a different matter altogether.
The experienced batsmen in the side also need to stand up and be counted, in particular Mohammad Hafeez and Shahid Afridi. With Younis Khan struggling in the manner that he is, it is significant from Pakistan's point of view that the duo does a good job with the bat. So far in the series, only Azhar Ali has been efficient with the bat. He will need support from the rest, if Pakistan are to square the series. Partnerships will be the key for Misbah Ul Haq's men. Even if they don't register big partnerships, they must at least ensure that they don't lose wickets in a jiffy, like they did in the last game. This is what Sri Lanka did very well on Saturday. They ended with an average total, but managed to squeeze Pakistan under pressure. With plenty at stake, Pakistan would seek inspiration from one of their senior men, and who better than their captain Misbah to come up with an influential knock?
Another aspect of the game Pakistan will have to look out for is their bowling performance in the power play. They faltered in this department in the last game, which gave Sri Lanka the momentum to head towards a challenging score. It may not be a bad idea to bring in Mohammad Sami for Umar Gul, who has been one of the key culprits in the power play overs.
On paper, Pakistan have the men to challenge Lanka. Whether they are mentally ready to compete is their bigger worry.
--By A Cricket Analyst