According to one of the game's greatest all-rounder Imran Khan in an interview with News Channel CNN-IBN, Sachin Tendulkar should have retired from International Cricket after India had lifted the World Cup last year! The former Pakistani Captain who has given his country the 1992 World Cup reckons that there is nobody who can match Sachin Tendulkar's batting greatness. Imran adds that Tendulkar should have retired on a high after India's victorious World Cup Campaign in 2011.

Imran goes on to say that its upto Sachin Tendulkar to decide when he wants to retire from Cricket. Tendulkar has to decide himself the right time to hang his boots according to the Pakistani legend. Imran says that there are three to four Indian cricketers on the brink of retirement but has the team management found the suitable replacements remain to be seen. Imran adds that every sportsman finds it difficult to decide when to quit as it is one of the most tricky situations of their career.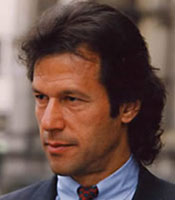 Imran Khan commented on the possible 100th ton for Sachin Tendulkar saying that even if the little master gets that it doesn't matter and even if doesn't get that in his career also its not a big thing. If Sachin Tendulkar doesn't get the record 100th international career it doesn't make his greatness any less according to the former Pakistani all-rounder. Imran also says that it won't be right if Tendulkar plays only for that 100th century and that the latter will always be a great player, so if he scores 99 centuries or 100 doesn't matter at all.

Meanwhile Imran Khan has blamed too much of Twenty20, IPL as the reason for India's failure in Test Cricket. Imran warned that this tiny version of cricket is detrimental to the techniques of youngster and if India persists with this overdose of T20, then soon it will become a walkover team in Test Cricket!