Sri Lanka have nearly knocked off India from the Tri-Series by leaving them a daunting target of 321 at the Bellerive Oval in Hobart. India needs to get these runs in just 40 overs to fancy its chances of making it to the CB Series Finals. The Lankans got to the massive total of 320 for 4 thanks to centuries from Tillakaratne Dilshan and Kumar Sangakkara. Dilshan carried his bat through the innings to equal his previous highest score of 160.
India just couldn't find any early wickets with the new balls. Sri Lanka through Skipper Mahela Jayawardene and Tillakaratne Dilshan applied a cautious approach which paid off. India's first breakthrough came in the 12th over when Mahela Jayawardene attempting to late cut Ravindra Jadeja got a top edge which was caught nicely by Virender Sehwag at slip.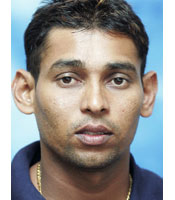 Sri Lanka were 49 for 1 when Kumar Sangakkara joined Dilshan and for another one and a half hours or so it was all about this pair flaying the weak Indian attack on a perfect batting strip. Sangakkara who had otherwise struggled to score any runs in this series went onto score his 13th ODI century while Dilshan had got to his 11th ODI century sometime before him.
It was only in the 44th over that India could break the massive second wicket of 200 runs. Sangakkara fell for 105 which came in just 87 balls with 8 fours and 2 sixes. He got bowled by a full delivery from Praveen Kumar which got the better of him in a predetermined slog over mid wicket. There was no respite for the Indians in the slog overs as well as Sri Lanka from 249 for 2 in 43.2 overs finished at 320 for 6! Dilshan remained unconquered on 160 which came in 165 balls with 11 fours and 3 sixes. It was a tremendous knock considering that he was doubtful to play this game after hurting his hand during the nets.
Toss and Teams: India for the first time have won the toss and MS Dhoni has decided to bowl first! Although it is a batting track, MS Dhoni says that his decision is based on the fact that India need to know how much to chase in lesser overs for a bonus point to qualify for the Finals. Also there could be some rain at Hobart which could go against the team batting first.
India have made just the one change with Irfan Pathan out with an injury caused by his on-field collision with Suresh Raina. He has been replaced with Zaheer Khan. Sri Lanka have retained the same XI.
Pitch and Weather Report: Although the sun is out, one can easily spot a couple of blackish clouds in the sky. The prediction is for some rain through the course of the match. The pitch is expected to be good for batting with little lateral movement on offer. There is no grass on the pitch so it will be more likely to be a sub-continent kind of track where batsmen can play freely on the up. The breeze was picking up at the time of the toss which could lead to showers.
India: V Sehwag, SR Tendulkar, G Gambhir, V Kohli, SK Raina, MS Dhoni (Captain & Wicket Keeper), RA Jadeja, R Ashwin, IK Pathan, PS Kumar, U Yadav
Sri Lanka: TM Dilshan, DPMD Jayawardene (Captain), KC Sangakkara (Wicket Keeper), LD Chandimal, HDRL Thirimanne, AD Mathews, NLTC Perera, MF Maharoof, KMDN Kulasekara, SL Malinga, HMRKB Herath