- By Garfield Robinson
The news that Sunil Narine will join the West Indies test squad in England should strengthen the wavering faith of fans grown weary by the constant pummeling their team has been receiving for over a decade. The hope that his addition would have stirred in the hearts of Caribbean cricket lovers would only have been dampened by the fact that he replaces the leader of the attack, Kemar Roach, whose injury has forced his return to Barbados.
Roach has been the West Indies' most feared bowler this series and his absence from the last test is unfortunate. But in his stead the visitors have brought in a player, made available by the just concluded Indian Premier League (IPL), who could conceivably spurthem to victory, especially against a team that has shown vulnerability against high quality spin bowling in the recent past, albeit in foreign conditions.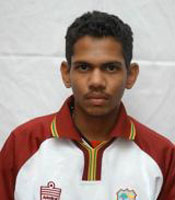 England lost every game in a three test series in Abu Dhabi against Pakistan early this year when they could find no answer to Saaed Ajmal and Abdur Rehman. Both spinners combined to snare a staggering 43 of the 60 wickets that fell, against batting that at times looked totally inept against their kind of mystery.
The two-test series against Sri Lanka was shared, but RanganaHerath racked up a heady 19 wickets and coach Ottis Gibson will be hoping that The Trinidadian will be able to unearth such frailties at Egbaston, a surface not particularly unkind to spinners.
Narine has been a revelation. In the West Indies regional first class competition this season he gathered 31 wickets in three games at 9.61 apiece, and had five wicket hauls in five of the six innings in which he bowled.
Australia found him difficult in the limited overs games on their recent visit to the Caribbean. In five 50 over games he took 11 wickets and so concerned the Aussies that Michael Hussey admitted to the relief he and his colleagues felt at Narine's unavailability for the tests.
Offered an irresistible USD 700,000 contract by the Kolkata Knight Riders,Narine cut a wide swathe though the 2012 edition of the IPL. At the end of the competition, his side gained its first hold on the IPL title, with him winning the DLF Golden Player of the Season award. His 5.47 economy rate made him the thriftiest bowler on show, and performances like his 5 for 19 against Kings XI Punjab showed his capacity to dismember batting line-ups.
But let's not get carried away. Next Friday--if the West Indies tour selectors have not surrendered their sanity--he will be playing a test match against the games number one ranked team. It will be no walk in the park; he will not benefit from batsmen chasing after him, trying to blast him out of the ground every ball. High quality players will have the time to decipher and nullify his mysteries. Instead of sixes batsmen will be thinking of singles and suicide will not be a popular form of dismissal. This might prove his most formidable challenge yet and cricket lovers all over will be yearning to see how he pulls through.
One thing is certain, however: he has the skills to do serious damage. If he gets it right, and if conditions are not hostile to his craft, he could cause the hosts major headaches. To date, as far as spin bowling is concerned, England has only had to contend with Shane Shillingford, who posed little danger on a fairly unhelpful Trent Bridge track, and part-timer Marlon Samuels.
Come Egbaston it will be a totally different matter. England will be confronted with a spinner of the kind that recently caused them heartbreak. The loss of Roach is significant, but if Fidel Edwards, Ravi Rampaul and the captain Darren Sammy can exert enough pressure, and if the batsmen can cobble together some decent runs, then Narine could play a huge role in spurring the visitors to a last test victory. He is that good.