Sri Lanka defeated India by a comprehensive margin of 51 runs in the 8th Match of the CB Tri-Series at the Gabba in Brisbane. Needing 290 runs to win, the Indian top order failed to put Sri Lanka in charge. Although there was a fightback here and there from India, it was always Sri Lanka's game.

India's run chase began very poorly as Captain Virender Sehwag (0) played a rubbish upper cut off Lasith Malinga into the hands of thirdman in the second ball of the innings! Things still looked bright for India as Sachin Tendulkar and Gautam Gambhir were striking the ball beautifully. But the innocuous Nuwan Kulasekara with his lovely swing and seam bowling got the two batsmen out to leave India at 54 for 3 by the 12th over.

It was a huge disappointment for Sachin Tendulkar as he looked good for his 22 (from 33 balls with 3 fours) before he dragged an inducker from Kulasekara onto his stumps. The ball prior to this, Sachin was beaten by the away movement. And he was shaping up to leave one that had pitched outside off but to his shock, the ball came back to take an inside edge onto the stumps. Gambhir got out walking down the track and guiding an away swinger low into the hands of Thisara Perera at wide slip.

India staged a steady fightback through Virat Kohli and Suresh Raina which was possible through a couple of catches put down by the Lankans. The young pair added 92 runs for the 4th wicket before Suresh Raina (32 from 55 balls with a four) got caught at covers off a leading edge in an attempted backfoot flick off a bouncy delivery from Maharoof in the 31st over. By the 36th over, India was reduced to 172 for 5 when a well set Virat Kohli (66 from 83 balls with 2 fours) mishit his pull shot off a rising delivery into the hands of mid on after looking to play an attacking game in the Batting Powerplay.

It was matter of formalities for the Sri Lankans after removing the danger man Kohli. However, Irfan Pathan was having other ideas and was pretty confident of pulling a victory all on his own. Unfortunately for Pathan, he lost three crucial partners in Jadeja, Parthiv and Ashwin which reduced the score to 232 for 8 in 43 overs.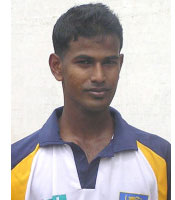 Nuwan Kulasekara made things easy for the Lankans when he had Ravindra Jadeja (17) dragging a wide yorker back onto the stumps in the 38th over to break a promising 6th wicket stand with Pathan. Wicket Keeper Parthiv Patel (4) found the bounce of the Gabba pitch too much for his liking and got out playing a nothing shot on the backfoot to Thisara Perera. In the 43rd over, Lasith Malinga came up with a death blow when R Ashwin (5) was forced to edge his late cut off a slower one to the keeper.

India by the start of the 46th over was bowled out for 238 with the last man to fall being Irfan Pathan. The left-handed all-rounder scored a valiant 47 from 34 balls with 7 fours before his flat-batted hit off a full toss got caught overhead by Thisara Perera in his own bowling.

Thisara Perera finished the match with figures of 4 for 37 in 7.1 overs. But the Man of the Match award instead went to Nuwan Kulasekara who took three key wickets and a catch besides giving only 40 runs in his 9 overs.
Also read :Sri Lanka give India a difficult target of 290 to win the Gabba ODI