England have named a 16-man squad for the Sri Lanka tour which will consists of only 2 Test Matches. The 16-man squad has four specialist spinners with off-spinner James Tredwell and left-arm-spinner Samit Patel joining Graeme Swann and Monty Panesar more as back-ups. Eoin Morgan, who hasn't scored anything significant of late in Test Cricket has been dropped.

The surprise selection from England is really that of James Tredwell, the 30-year-old classical off-spinner who tosses the ball up at a tempting slow pace. Tredwell has so far played one Test and 5 ODIs for England having made his international debut in 2010. Samit Patel meanwhile gets his first chance at the Test level although he has been a regular for England in the ODI and T20I formats. The 27-year-old left-arm spinner usually bowls flat and quick in the air and doesn't get much spin off any surface. But his useful batting in the lower order does help England in the limited overs cricket.

According to the ECB official website, National selector Geoff Miller said: "We have selected a squad that we feel will be able to make best use of the conditions we are likely to encounter in Sri Lanka.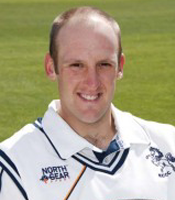 "There is no doubt that this Test series will be a challenging one but it is exciting that players have an opportunity to demonstrate that they have learnt from the disappointment of the Pakistan Test series and can make further strides in developing the skills needed to succeed on the sub-continent."

England have a reserve Wicket Keeper to Matt Prior in Steven Davies. Ahead of the 2 Test Matches, England will play a couple of warm-up games to adapt to the Sri Lankan conditions. The first Test Match will be played from the 26th of this month at Galle followed up by the second and last Test Match at Colombo from April 3rd.

England Test Squad for Sri Lanka Tour : Andrew Strauss (Captain), Alastair Cook, Jonathan Trott, Kevin Pietersen, Ian Bell, Ravi Bopara, Samit Patel, Matt Prior (Wicket Keeper), Steven Davies (Wicket Keeper), Tim Bresnan, Stuart Broad, Graeme Swann, James Anderson, Steven Finn, James Tredwell and Monty Panesar