India Captain MS Dhoni seems to be turning philosophical after his team's continuous defeats in Australia. "There is always a tomorrow"... said Dhoni after yesterday's defeat against Australia in the 1st T20I at Sydney. The Indian Captain said that the rain had affected them and the decision to field first backfired.

Dhoni in the Press Conference after the Sydney T20I said that in England also rain hampered his team often. So he thought it was safe to field first and know what exactly to chase if it rains. Dhoni says he was unlucky as it rained after the toss and it was difficult for his bowlers to grip the ball. The Indian Captain felt that the pitch at Stadium Australia played poorly in the second half when India came out to chase 172. The Indian team according to Skipper MS Dhoni actually expected the track to improve as the game went by and thought that batting would be easier. However, that didn't happen for Team India. Although there was a good start, Dhoni believes his team couldn't utilize it effectively to chase down the target.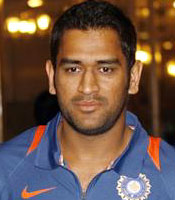 The Indian Captain praised Matthew Wade for his match-winning knock of 72 of 43 balls. Dhoni went onto say that the team that plays better wins but there is always a tomorrow hinting at a possible resurgence from India. Meanwhile George Bailey who led Australia in his Debut T20I itself was thrilled about his side's 31-run victory and said that it was an all-round performance from his boys. Bailey expressed confidence of winning the Second and Final T20I which is on the 3rd at Melbourne.