Owais Shah's brilliant knock goes in vain for Rajasthan Royals
A terrific bowling effort from Lasith Malinga in the 15th over changed the fortunes for Rajasthan Royals to bring Mumbai Indians right back into the contest. Malinga picked up two wickets in that over including that of the dangerous Owais Shah to rescue the Mumbai Indians who eventually went onto win the high-scoring contest at the Wankhede Stadium by 22 runs.
The Rajasthan Royals were in early trouble at 7 for 2 in the 2nd over chasing 198. But a superb second wicket partnership between Ajinkya Rahane (40 from 31 balls with 4 fours and 2 sixes) and Owais Shah helped the innings to get some shape. Owais Shah unleashing a few slog sweeps into the crowd went on the carnage after completing a fifty. And just when he was threatening to run away with the game, a perfect yorker from Lasith Malinga cleaned up his stumps. Owais Shah scored a smashing 76 from 42 balls with 5 fours and 5 sixes before leaving the park at 134 for 4 in 14.1 overs.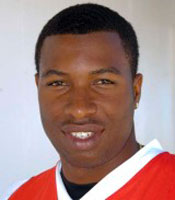 The Royals got flashes of brilliance from Ashok Menaria (20 from 15 balls with 2 fours and a six) and Kevon Cooper (14 from 6 balls with 2 sixes) but both the batsmen couldn't take their side home. Lasith Malinga was the pick of the bowler for the hosts with 4-0-13-2. Munaf Patel and Kieron Pollard were the successful wicket takers with four each to their names. Pollard who earlier scored 64 from 33 balls along with his 4 for 44 got the Man of the Match award.
Pollard, Rayudu fire Mumbai Indians to 197 for 6
Mumbai Indians seem to have batted Rajasthan Royals out of the contest with a huge total of 197 for 6 at the Wankhede Stadium. Kieron Pollard led the way for Mumbai Indians with an explosive knock of 64 from 33 balls with 6 fours and 4 sixes. AT Rayudu played a crucial hand for MI with his 47 from 32 balls with a four and 3 sixes. Skipper Harbhajan Singh provided the final touches with a cameo of 18* from 6 balls with a four and 2 sixes.
The hosts were in a spot of bother when Brad Hogg picked up the key wickets of Richard Levi and Rohit Sharma to reduce the Mumbai Indians to 68 for 3 in 8.2 overs.
Toss and Teams: It's yet another case of a Captain winning the toss and putting the opposition to bat first in this IPL 5. This time it was the turn of the Rajasthan Royals' Captain Rahul Dravid to do that and Mumbai Indians without Sachin Tendulkar will bat first at the Wankhede Stadium in Mumbai.
Veteran Brad Hogg is set to play his first game of IPL 5 for the Rajasthan Royals.
Mumbai Indians : TL Suman, RE Levi, AT Rayudu, RG Sharma, JEC Franklin, KD Karthik (Wicket Keeper), KA Pollard, Harbhajan Singh (Captain), SL Malinga, PP Ojha, MM Patel