One of Australia's best batsman and former Captain Ricky Ponting has informally retired from One Day Internationals. The 37-year-old Ponting has expressed this decision in a press conference at Sydney after he was axed from the CB Series by the Selectors following a string of low scores.

Ponting hasn't formally announced that he was retiring from ODIs but it was understood as the Chairman of the National Selection Committee - John Inverarity has made it clear that he was no longer going to be considered for selection in the limited overs team. Inverarity also suggested that the move from the Selectors could push Ponting towards retirement from ODIs.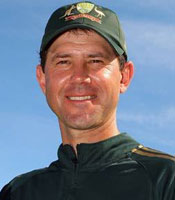 Ponting in the press conference has made it clear that he would still make himself available for Test Cricket. He would also play for his state Tasmania in the domestic tournaments. The 37-year-old desires to quit the game after next year's Ashes in England. However, whether he will play then depends solely on the Selectors which will be based on how Ricky Ponting performs in the next 13 Test matches before the Ashes Series! Australia will tour West Indies, and then host South Africa and Sri Lanka. Just before the Ashes, the Aussies tour India and whether Ponting will last this long will remain to be seen.

The former Australian Skipper is surely going to be picked for the upcoming West Indies tour after a successful Test Series at home against India in which he scored a double century. Ponting with his place in the Test Team under threat a couple of months back, had a wonderful series against India scoring 3 fifties, a century and a double century! However, in the ongoing CB Series, Ponting's bat failed to yield any runs with poor scores of 2, 1, 6, 2 and 7!

Ponting without doubt has been one of the best batsmen in the history of the game. His One Day Career is over with 13704 runs in 375 ODIs at an average of 42.03 and a strike-rate of 80.39. Ricky has 30 100s and 82 50s in his ODI career. He had led Australia to World Cup titles in 2003 and 2007 besides being a part of the World Cup winning side in 1999.