Virat Kohli scores 183 as India pull off their highest ever run chase
Virat Kohli played the innings of his life so far, coming up with an epic 183 to power India to a superb 6-wicket win over arch-rivals Pakistan! India chased down the target of 330 with total ease thanks to Virat Kohli's 11th ODI century and the perfect support he found from Sachin Tendulkar and Rohit Sharma. This was India's highest run chase eclipsing the previous highest run chase of 326 which came in the Natwest Tri-Series in 2002.
The Men in Blue smashed the target with 13 balls to spare make the chase look so ridiculously easy and with that stay alive in the Asia Cup 2012. However, India's chances of making it to the Final against Pakistan still hang in the air. It remains in the hands of Bangladesh and if the hosts manage to defeat Sri Lanka on Tuesday, then they will walk into the Final instead of India. The tournament rules say that although teams end on same number of points, the winner of the match between the two will go ahead into the final. Bangladesh having upset India on Friday will thus make it to the Final should they beat Sri Lanka!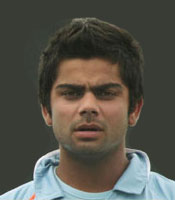 Chasing the target of 330, India were given an early tremor by centurion Mohammad Hafeez when he trapped a tentative Gautam Gambhir lbw in just the second ball of the innings for a duck. It was all about holding the nerve for Virat Kohli and Sachin Tendulkar to take India forward from 0 for 1 on what would remain to be a perfect batting strip. Tendulkar with the 100th century out of his mind played freely and with the in-form Kohli got India moving.
India moved smoothly and Pakistan had to introduce Saeed Ajmal very early and although he had the better of Tendulkar and Kohli, the pair ensured that their wickets weren't given away. Soon, the two batsmen got their fifties and laid a solid foundation for the run chase. It was in the 20th over that Pakistan could break this partnership with Saeed Ajmal forcing Sachin Tendulkar (52 from 48 balls with 5 fours and a six) to get a leading edge to a doosra towards slip. Tendulkar left the crease with India at 133 for 2.
It was slightly tough for Virat Kohli to maintain the momentum when Rohit Sharma joined him and struggled to get the runs coming at his end. However, Rohit Sharma managed to get into his groove and India were back on track cutting down the target smoothly. The game was totally in India's control as Virat Kohli got to his 11th ODI century and with Rohit Sharma keeping up the pace as well.
Once Kohli got past the ton, the runs began to flow very freely and it was simply unstoppable for Misbah-ul-Haq. Pakistan's best bowlers simply struggled to make the inroads and also in stopping the run flow from Kohli and Rohit. India got within striking distance going past the 300 when Rohit Sharma (68 from 83 balls with 5 fours and a six) heaved a slog pull off Umar Gul to mid wicket in the 46th over. India needed just another 25 runs to win from 25 balls after a superb 172-run partnership for the 3rd wicket between Kohli and Rohit.
In the 48th over, a tired Virat Kohli got out attempting a pull shot off Umar Gul but not before taking India almost through. Kohli finished with an epic 183 which came in just 148 balls with 22 fours and a six. It was also a career best for the 23-year-old and was narrowly close towards a dream double century as well! India's Skipper MS Dhoni (4*) finished the match with a square cut for a boundary in the 48th over along with Suresh Raina (12* from 6 balls with a four and a six). Kohli was the obvious choice for the Man of the Match award.
Nasir Jamshed, Mohammad Hafeez Centuries carry Pakistan to 329 for 6
Pakistan have left India with a daunting target of 330 to stay alive in the Asia Cup 2012! The target is a daunting one despite the pitch going to be even more better under lights because the Pakistanis have wicket taking bowlers like Saeed Ajmal and others. India will have to bat out of its skin to achieve this target.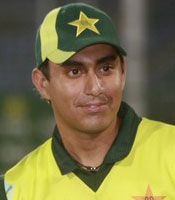 It was a beautiful opening start that Pakistan got from its right and left hand combination of Mohammad Hafeez and Nasir Jamshed under overcast conditions. The openers put up a solid 50 for no loss in 10 overs and then doubled it up by the 18th over while still staying intact. Both the batsmen went onto pile up centuries against the thin Indian bowling attack. Hafeez was the first bringing up his 4th century which was followed up by Jamshed for whom it was a maiden ODI Century.
The opening pair were only separated in the 36th over when Nasir Jamshed got a top edge to his slog sweep off R Ashwin which flew to short fine leg. Jamshed scored a career best of 112 from 104 balls with 10 fours and a six while putting up a massive opening stand of 224 runs with Hafeez. India found its second wicket in the next over when Mohammad Hafeez missed an adventurous sweep off a slower one from Ashok Dinda was struck on the bent back thigh infront of middle for an lbw. Hafeez departed after a lovely 105 which came in 113 balls with 9 fours and a six.
Pakistan finished on a high at 329 for 6 with Umar Akmal striking 28 (from 24 balls with 2 fours) and Younis Khan scoring a quick fifty, 52 from just 34 balls (with 6 fours). India's fielding was pretty good and towards the end, a couple of sensational catches were taken. The first one came from Suresh Raina at extra covers leaping high in the air to take a one handed catch off a smashing drive from Younis Khan. That blinder was soon followed by Virat Kohli at deep wide mid wicket who ran backwards and then jumped up to take an overhead catch offered by Shahid Afridi.
None of the Indian bowlers did a good job like in the previous game. Ashok Dinda showed some promise but finished with 2 for 47 in 8 overs.
Toss and Teams: Misbah-ul-Haq has won the toss and Pakistan have decided to bat first in the 5th Match of the Micromax Asia Cup 2012 against arch-rivals India. The pitch for this match is expected to produce plenty of runs as usual. The spinners could get some help because this track was already used in this tournament once.
Pakistan who are already in the Final have made one change by dropping Wicket Keeper Sarfraz Ahmed and replacing him with left arm quick Wahab Riaz. Umar Akmal will be the Wicket Keeper for this game. India have made just the one change but it's a big one with the Destroyer Yusuf Pathan replacing Ravindra Jadeja, who is not fit according to MS Dhoni.
This is of course a must win match for India if they want to qualify for the Asia Cup 2012 Finals after their upset loss against Bangladesh despite the 100th century from Sachin Tendulkar!
Pakistan: Mohammad Hafeez, Nasir Jamshed, Younis Khan, Misbah-ul-Haq (Captain), Umar Akmal (Wicket Keeper), Hammad Azam, Shahid Afridi, Sarfraz Ahmed (Wicket Keeper), Umar Gul, Saeed Ajmal, Aizaz Cheema and Wahab Riaz
India: G Gambhir, SR Tendulkar, V Kohli, RG Sharma, SK Raina, MS Dhoni (Captain and Wicket Keeper), YK Pathan, IK Pathan, R Ashwin, P Kumar, AB Dinda