By BV Swagath
Sri Lanka completed a 209-run victory over Pakistan in the opening Test at Galle after claiming the extra half hour. This victory for the Sri Lankans is the biggest against Pakistan in Test history. It came after some real hard work on the fourth day as the Pakistani middle order provided stiff resistance.
Resuming the final session with five wickets in hand, Pakistan's next task was to see off the second new ball which was due in the second over of the session, Nuwan Kulasekara struck gold with the very fifth ball with the second new cherry when he produced a feather edge for the keeper off a well set Younis Khan (87 from 213 balls with 7 fours) on the backfoot.
Sri Lanka would have got Mohammad Ayub cheaply when Herath with an arm ball had him plumb infront but the batsman got away because of yet another poor umpiring decision. Debutant Ayub after that escape started to frustrate the Sri Lankans along with a solid looking Adnan Akmal. Eventually, Sri Lanka got their breakthrough after waiting for nearly 15 overs with fast bowler Nuwan Pradeep beating a risky flick shot from Ayub (22 from 65 balls) and hitting his pad with an inswinger. Pradeep with that atlast earned his maiden Test wicket.
The hosts were made to wait again for their next wicket which came in the dying moments of the day's play when Abdur Rehman (14) charged down the track to loft Suraj Randiv but only to get caught brilliantly by a backward running Kumar Sangakkara at mid off. With just two wickets to take, Sri Lanka asked the Umpires to extend play by half an hour.
Suraj Randiv wrapped up the match by removing no,10 Umar Gul and no.11 Junaid Khan through bat pad catches. Umar Gul's was a lucky wicket for Randiv as there was no inside edge which went down as yet another umpiring mistake of the Test Match. Pakistan were bowled out for 300 after grinding hard for 114 overs. Wicket Keeper Adnan Akmal remained unbeaten on 40 (from 105 balsl with 5 fours).
The Man of the Match award was given to Kumar Sangakkara, who put the Sri Lankans in the driver's seat with his knock of 199.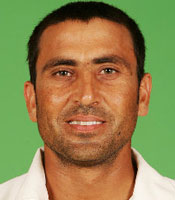 Tea on Day 4: Pakistan had a wonderful post lunch session as Younis Khan and Asad Shafiq prolonged their fighting partnership to defy the Sri Lankans. However, Asad Shafiq got dismissed with just few minutes to go before Tea when he was forced to dab a quicker turning delivery from Rangana Herath off the edge to slip.
Asad Shafiq got dismissed after scoring 80 (from 165 balls with 13 fours). The youngster put up a fighting stand of 151 in 56.4 overs with Younis Khan, who is unbeaten on 82 (from 207 balls with 6 fours). Pakistan finished the afternoon session at 205 for 5 in 79 overs with Mohammad Ayub (5) at the crease with Younis.
Lunch on Day 4: Pakistan finally showed some fight with the bat as they lost just the one wicket of night watchman Saeed Ajmal in the entire morning session on Day 4. The visitors ended the morning session at 108 for 4 in 47 overs while needing 402 runs for an improbable victory.
It was a poor start in the morning for the visitors as Saeed Ajmal (12) was run out by Suraj Randiv through a direct hit after being sent back to the non-striker's end by Younis Khan. They nearly lost Younis Khan also early when he had stepped out and miscued his lofted shot to the forward diving Dilshan at mid off. However, replays were inconclusive for the TV Umpire and Younis was given not out.
Younis Khan and Asad Shafiq then batted out the session to ensure that the Sri Lankans had to work hard to find their breakthroughs. There was a half chance at mid wicket offered by Asad Shafiq just before lunch but a diving Sangakkara couldn't pull it off. At lunch, Younis Khan has nudged his way to 34* (from 116 balls with 2 fours) and Asad Shafiq has looked promising with his 36* (from 81 balls with 5 fours).
Build up to Day 4: The opening Test at Galle is most likely to be wrapped up today on the fourth day unless the weather intervenes or the Pakistani middle order comes up with anything spectacular. The visitors will resume Day 4 with three specialist batsmen back in the pavilion. Pakistan are a long way away from victory as well after being set a target of 510 yesterday.
The visitors are left with Younis Khan, Asad Shafiq and debutant Mohammad Ayub as the specialist batsmen to prolong the inevitable.